The Story of Stray Dog Press, Inc.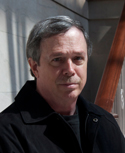 There's an old saying that whenever God closes a door He opens a window. A window of opportunity. Only sometimes that window is on the second floor. So if you want to climb through it you'd better have a ladder.
Stray Dog Press is my ladder.
I've had three novels published by major New York publishers: The Concrete Inquisition, Signet Books; Digger, Bantam Books; and The Next President, Bantam Books. A fourth novel, The President's Henchman, was published by a regional publisher, Variance Publishing.
Besides some good media reviews, there have been many kind words from readers who've written to me. Inevitably, these congratulatory messages end with the query: When will your next book be out?
And therein lies the rub. I kept writing but the traditional publishers stopped buying.
Which begs the question: Why? Did I lose it? Did the quality of my writing fall off a cliff? Did I run out of interesting story ideas? Did I fall prey to self-destructive habits?
The answer to all of the above questions is no.
Fortunately, technology offered a solution: ebooks and print-on-demand publishing.
Write a novel. Create a digital file of the manuscript. Make the book available through the Internet for all those ebook readers. Print one copy at a time as print orders are received.
Stray Dog Press will offer novels in two formats: ebooks and high-quality trade paperbacks. Both formats will be priced lower than comparable books sold at retail. Those folks down in Bentonville, Arkansas aren't the only ones who can underprice the competition.
Will the product between the front and back covers be any good? Judge for yourself.
Stray Dog Press offers prospective readers a significantly larger sampling: 10-30 pages of each novel. Read that much for free and if we've hooked you, great. Buy the book. If not, nothing's lost.
Striking out on your own is very scary — you have to start by putting up your own money, for one thing — but it's also tremendously exciting. The growing demand for ebook content portends a whole new world of publishing, much the better for the author.
The way I hope it works out, Stray Dog Press will be a central part of my life until I need a ladder to the hereafter.